News
$400k to help needy students
12 May 2017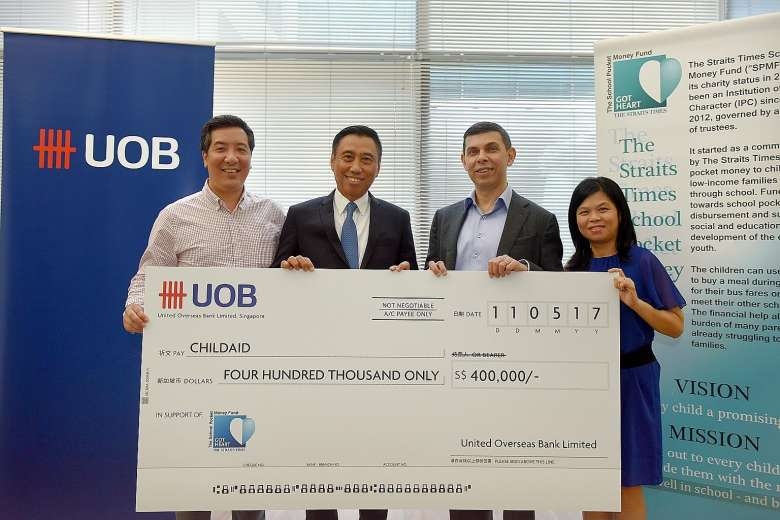 Mr Eric Tham (second from left), managing director and head of group commercial banking at UOB, presented a mock cheque in the ST newsroom yesterday to (from left) Mr Marc Lim, co-chairman of the ChildAid organising committee 2017 and news editor of The Straits Times; Mr Warren Fernandez, chairman of STSPMF, Straits Times editor and editor-in-chief of Singapore Press Holdings' English/Malay/Tamil Media Group; and Ms Tan Bee Heong, general manager of STSPMF. ST PHOTO: FELINE LIM
The Straits Times School Pocket Money Fund (STSPMF) received a $400,000 boost from the United Overseas Bank yesterday, from funds raised through its clients at an annual Chinese New Year dinner in February.
Mr Eric Tham, managing director and head of group commercial banking at UOB, presented a mock cheque in the ST newsroom yesterday to Mr Marc Lim, co-chairman of the ChildAid organising committee 2017 and news editor of The Straits Times; Mr Warren Fernandez, chairman of STSPMF, Straits Times editor and editor-in-chief of Singapore Press Holdings' English/Malay/Tamil Media Group; and Ms Tan Bee Heong, general manager of STSPMF. The funds will be pledged towards ChildAid 2017.
The Straits Times © Singapore Press Holdings Limited. Reproduced with permission.
Back