News
F1 car built from recycled items in donation drive
07 September 2017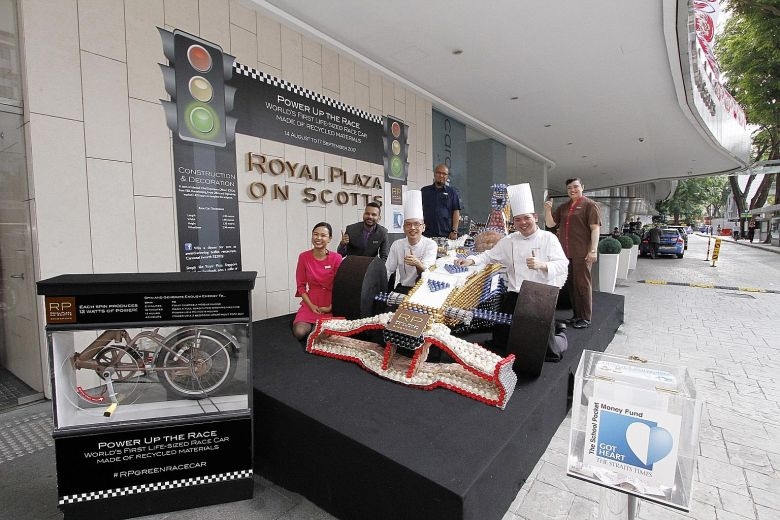 The Royal Plaza on Scotts team behind the life-size race car made from recycled materials. The hotel will match dollar for dollar donations placed in the box for The Straits Times School Pocket Money Fund. PHOTO: ROYAL PLAZA ON SCOTTS
In support of the Formula One night race next weekend, hotel Royal Plaza on Scotts is presenting a life-size race car made of recycled materials.
Materials used include fused light bulbs and fluorescent tubes, used coffee capsules, seashells from mussels, scallops and clams, old bottle caps and batteries.
A hand wheel is added to the race car and, by spinning the wheel, electricity is produced through kinetic energy. There will also be a display to explain how much energy is generated through the motion.
Along with the race car, a donation box will be placed to raise funds for The Straits Times School Pocket Money Fund, which supports over 150,000 children and young people from low-income families. The amount collected will be matched dollar for dollar by the hotel.
The race car is on display at the hotel's facade till Sept 17, and the donation box will be there from 7am to 11pm daily.
The Straits Times © Singapore Press Holdings Limited. Reproduced with permission.
Back