Upcoming Event
ONE FM 91.3 Gives Back !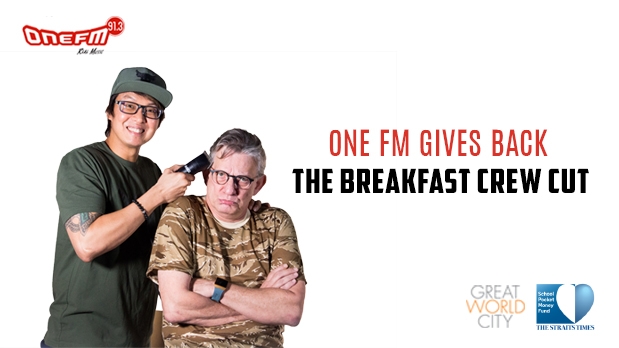 ONE FM Gives Back -

The Breakfast Crew Cut.

He's as Singaporean as chicken rice, the Merlion and ERP put together. However, one thing that the Flying Dutchman has yet to do as a Singaporean is his National Service.
FD was exempted from National Service and now at 62, he may be a little too past his prime to be a National Serviceman. (NSman)
To salute all the men who have done their part or will be going through the National Service, FD will be shaving his head - a ritual that all Singaporean sons would have gone through before becoming men in green.
ONE FM hopes to raise $10,000 as part of the station's initiative to give back and help FD's head-shaving journey a more meaningful one!
The Straits Times School Pocket Money Fund is the charity of choice and we believe a little goes a long way.
Let us help to make this happen by visiting https://www.giving.sg/the-straits-times-school-pocket-money-fund/one_fm_91_3_gives_back_ to donate now!
Show your support and join us at Great World City on 2nd June, 2pm to witness FD's momentous head-shaving event. See you there!
Let's make FD botak!
Back