News
New tour sheds light on Mr Lee's private life
17 March 2016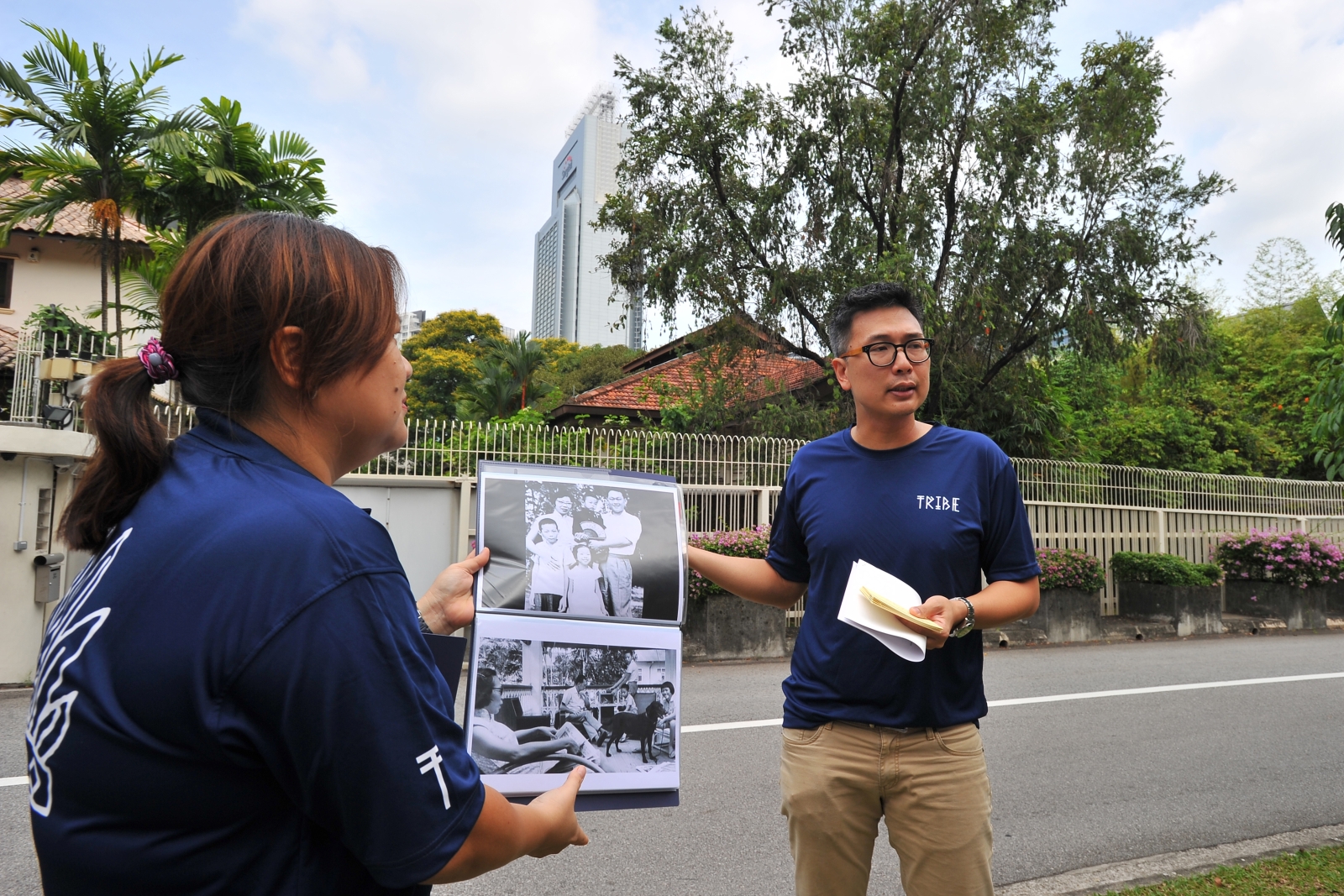 Tribe co-founders Mr Loe (right) and Ms Cheong at 38, Oxley Road. Mr Lee's family home is included in the four-hour guided tour "About Mr Lee". ST PHOTO: LIM YAOHUI
Four-hour tour takes visitors to key sites, such as founding PM's childhood estate
For breakfast, the late Mr Lee Kuan Yew preferred unsweetened bean curd and plain water. He apparently liked his beer at room temperature. And he kept a photo of his wife, Madam Kwa Geok Choo, in front of his cycling machine when he exercised.
The story of Mr Lee's political life and legacy is well established, but how much is known about the man behind the public persona?
"About Mr Lee", a new guided four-hour tour by local firm Tribe, aims to answer that by exploring the private life of Singapore's founding Prime Minister, which he guarded fiercely.
The tour, launched yesterday, weaves through key locations associated with Mr Lee – such as his offices at Old Parliament House, and lesser-known spots, such as Guan Hoe Soon Restaurant, which was one of his favourite restaurants – as it explores his roles as the eldest son, a lifelong learner, family man and doting husband.
Tribe co-founder and tour curator Jason Loe saw a potential gap in the public's awareness of Mr Lee's life.
"He kept the glare of the media away from his mum and also his children," said the 42-year-old, who hopes that this tour can be his small contribution to Singapore.
"There's so much interesting material about Mr Lee, and more so about his private life."
The first stop on the tour is the Civilian War Memorial that pays tribute to the lives lost during the Japanese Occupation.
The occupation was key in shaping Mr Lee's political aspirations.
The tour, which proceeds mostly by bus, also visits Mr Lee's childhood neighbourhood in Tembeling Road, an area steeped in the Peranakan heritage that his family is a part of.
Nearby is Guan Hoe Soon Restaurant, from where Mr Lee ordered otak-otak and other dishes for Istana events.
Eventually, the tour reaches Tanjong Pagar, Mr Lee's constituency of almost 60 years, and then his family home in Oxley Road.
Along the way, guides share stories of how Mr Lee spent time with his family and imparted the lessons of frugality and fidelity to his three children.
Tribe co-founder Cheong Yoke Chan, 43, highlighted how Mr Lee diligently nurse his wife back to health after her strokes.
"Mr Lee's father had an explosive temper. But despite all that, he (Mr Lee) could still portray such a fatherly figure to all his kids," she said.
All the money earned from March's tours will go to The Straits Times School Pocket Money Fund, which helps children from low-income families through school. After that, 10 per cent of earnings each month will go to charity.
The tour runs every Wednesday, Saturday and Sunday. Mandarin-speaking tours are available on weekends. Tickets from $30 are available at www.tribe-tours.com.
The Straits Times © Singapore Press Holdings Limited. Reproduced with permission.
Back