News
On a high to raise over $200,000 for less privileged children
19 May 2017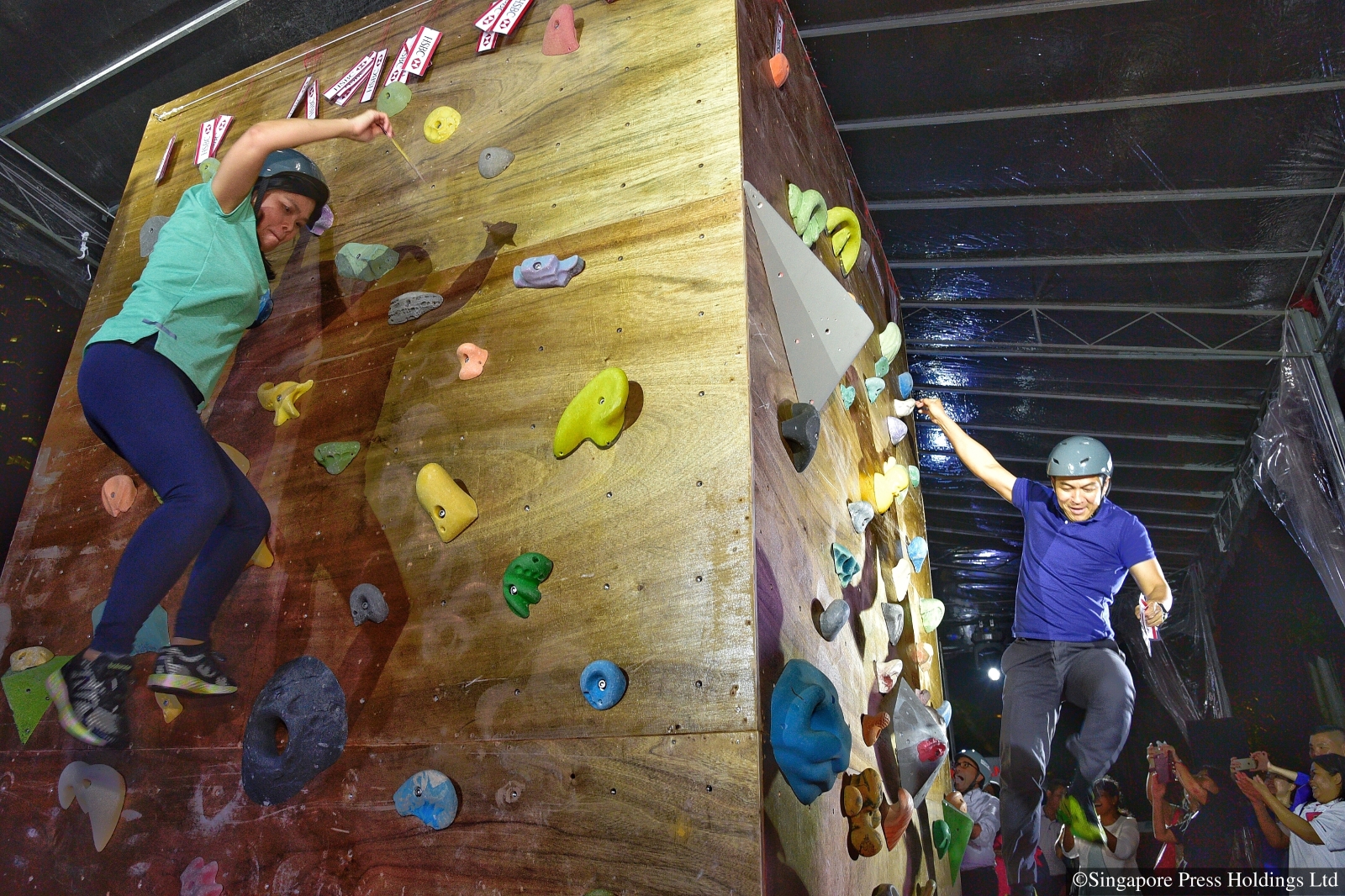 The Straits Times School Pocket Money Fund general manager Tan Bee Heong (left) and minister Tan Chuan-Jin racing to collect as many flags as they could in three minutes yesterday to raise funds for disadvantaged children. ST PHOTO: DESMOND WEE
About 150 people were screaming and cheering as Minister for Social and Family Development Tan Chuan-Jin scaled a 3.6m-high wall for charity last night.
He was in one of three teams - with five people each - taking turns to scramble up a wall to grab flags pinned at the top. They had three minutes to get as many as they could for disadvantaged children.
Each flag was worth $2,000 and the money collected went to The Straits Times School Pocket Money Fund and The Business Times Budding Artist Fund. Participants at the event managed to raise $242,000, which will be split evenly between the two charities.
"It's a way of engaging our staff and to let them give back to society in a way that helps them bond," said Mr Tony Cripps, chief executive officer of HSBC Singapore.
The event held at Masons at Gilman Barracks, a restaurant, was one of many that HSBC and The Straits Times Pocket Money Fund have been organising in the past few years.
One of the climbers, Ms Ng Ling Ling, 45, the managing director of Community Chest, said she had been taking part in these fund-raisers for five years. "When you put these children in your mind and you think about the disadvantages that they have to face, it's just very motivating," she said.
Mr Tan spoke about how such efforts change the face of volunteerism. "This is something I hope other corporates can emulate because I think it's only when you help on a more regular basis that you also have a more in-depth knowledge of what it is that you are supporting."
Besides the sum raised for the two charities, HSBC donated $300,000 for the educational programmes of six welfare organisations, including Pathlight School, Rainbow Centre Yishun Park School and Minds Towner Gardens School.
The Straits Times © Singapore Press Holdings Limited. Reproduced with permission.
The Straits Times School Pocket Money Fund (SPMF) started in 2000 as a community project initiated byThe Straits Times to provide pocket money to children from low-income families to help them through school. The children can use this money for school-related expenses, such as buying a meal during recess, paying for their bus fares or using it to meet their other schooling needs. The financial help also eases the burden of the many parents who are already struggling to feed their families on their meagre incomes.
The Fund supports over 10,000 children and youth a year. Since the project started in 2000, the Fund has disbursed close to $42m and helped over 128,000 cases of children and youth in providing them with monthly school pocket money.
SPMF was established as a Trust on 20 October 2010 with a Board of Trustees and was granted charity status on 14 November 2011 with Institution of A Public Character (IPC) status effective from 1 January 2012.
Since its inception as a community project to its transition to a full-fledged charity, The Straits Times School Pocket Money Fund has been working closely with its strategic partner, the National Council of Social Service (NCSS), which disburses the pocket money to beneficiaries through its network of family service centres, special schools and children's homes.
As at May 2014, there are 69 SPMF appointed disbursing agencies. These comprise of 46 family service centres, 6 Children's Homes, 17 SPED schools, disability VWO and Specialised School.
Back