News
Kids helped by ST fund get preview of parade vehicles
14 June 2017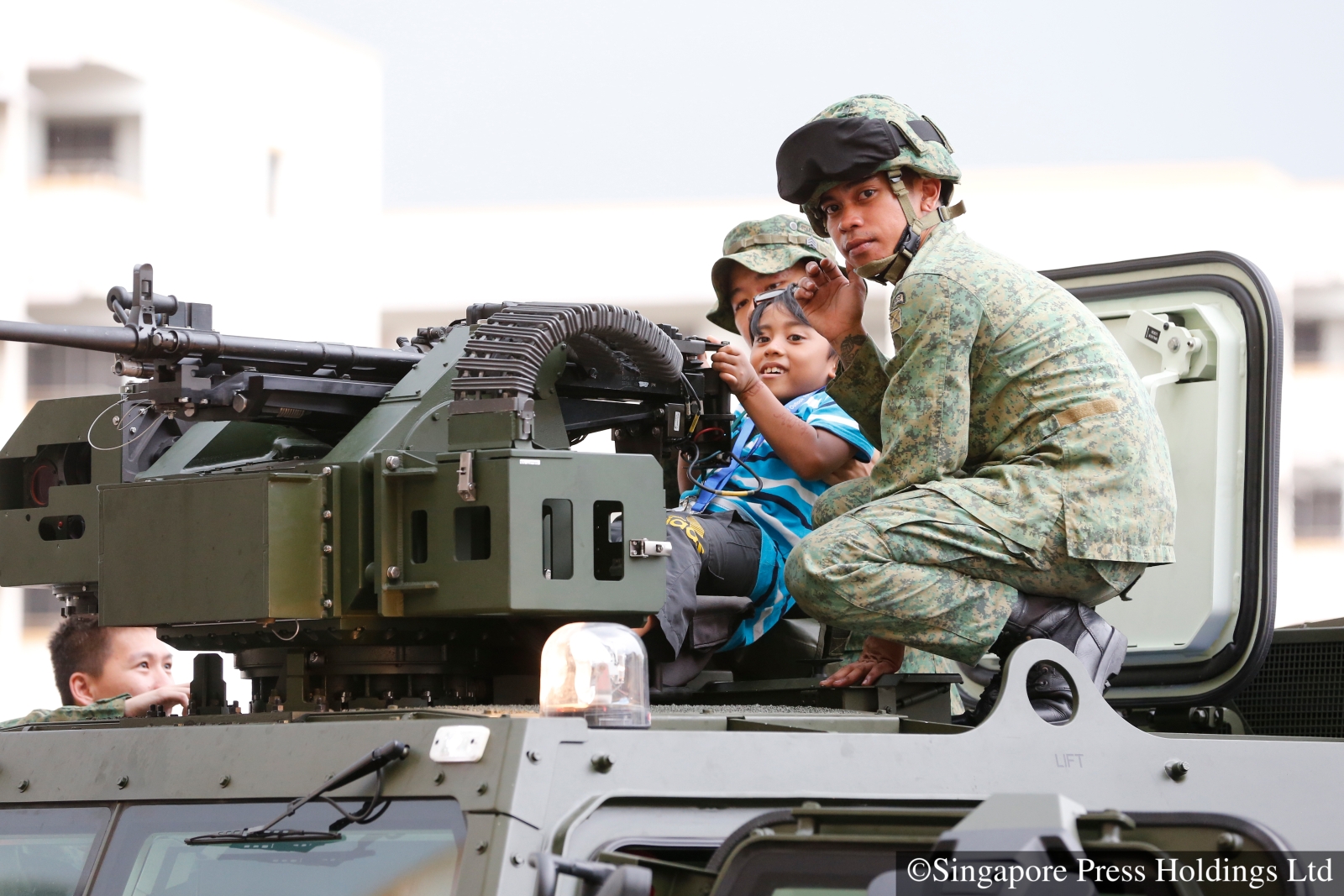 In a first, dozens of children had an exclusive look at, and even a ride on, some of the Singapore Armed Forces and Home Team vehicles to be featured in this year's National Day Parade (NDP).
Forty beneficiaries of The Straits Times School Pocket Money Fund (STSPMF) visited Sungei Gedong Camp in Lim Chu Kang last Saturday and viewed static displays of seven types of vehicles set to feature in the NDP Dynamic Defence Display (D3).
The display will have two segments: The first will focus on defence capabilities through action-packed drills; the second will focus on collective efforts by citizens and defence forces to tackle cyber attacks and terrorism.
A total of 27 types of vehicles - including fighter planes and army tanks - will be part of the show.
Seven of them will make their NDP debut this year, and STSPMF beneficiaries saw three of them: the army's Belrex Protected Combat Support Vehicle and Peacekeeper Protected Response Vehicle, and the Singapore Civil Defence Force's Fire-Medical Vehicle.
The Belrex has a remote machine gun and a smoke grenade launcher and can resist close-proximity mine blasts. The Peacekeeper is an armoured vehicle with weapon systems such as an automatic grenade launcher and machine guns.
With its fire-fighting, rescue and medical response capabilities, a single Fire-Medical Vehicle can be deployed for a fire/rescue and medical emergency.
The children also enjoyed rides, particularly those on the army's open-top all-terrain Light Strike Vehicle Mark II, which can reach speeds of 110kmh.
Eunice Han, nine, said: "It was very fun. It moved fast." The vehicles were restricted to about 40kmh that day. Nur Shafeeqah Mohd Rusdi, 12, said: "It was wonderful, as it's my first time sitting in such vehicles."
Major Law Wei Shing, chairman of the management for the D3 committee, said: "It feels good to put a smile on their faces. We want them to know what these assets are... and understand the commitment of the people (in the military and Home Team). We also hope to inspire them to, one day, be a future soldier, policeman or fireman - which I've heard from some of the kids."
STSPMF general manager Tan Bee Heong said: "We're thankful to the Defence Ministry and NDP 2017 D3 committee for their efforts and time in organising this exciting event, giving our students from low-income families a memorable day."
The Straits Times © Singapore Press Holdings Limited. Reproduced with permission.
Back