News
Manulife raises $50k for School Pocket Money Fund
21 December 2017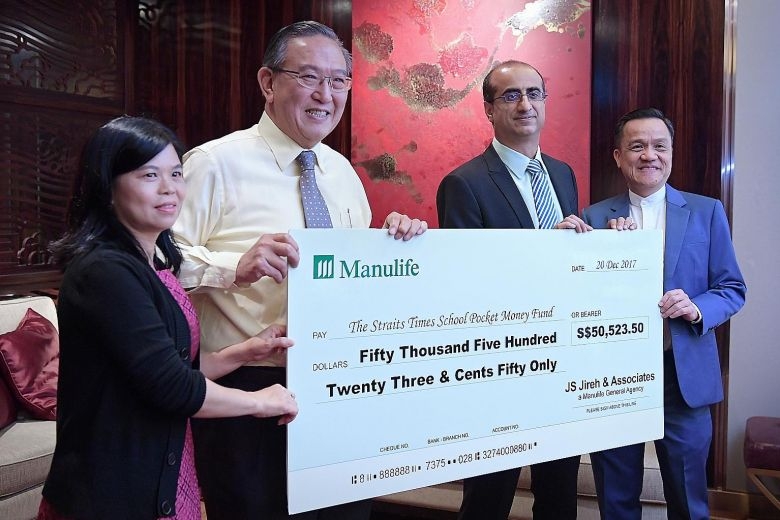 A sum of $ $50, 523.50 raised in a charity walk by Manulife Singapore was donated to The Straits Times School Pocket Money Fund (STSPMF) yesterday.
An estimated 330 employees and clients of the insurance company - from children to retirees - turned up for the 5km walk held at Gardens by the Bay's Silver Leaf Garden on Nov 4.
Participants donated varying sums of money to the ST fund through Walk for Life, organised by JS Jireh and Associates, a Manulife Singapore General Agency.
Mr Gerard Ee, chairman of the Charity Council and a member of the STSPMF's board of trustees, received the cheque together with Ms Tan Bee Heong, the fund's general manager, at Manulife's Appreciation Luncheon at Pan Pacific Singapore.
He said: "The donations at this time remind us to celebrate Christmas in the right spirit, remembering the underprivileged even as we enjoy ourselves during the festive season."
Mr James Sim, event organiser and branch director of JS Jireh, said: "Through the funds, the children will receive more than just financial support, but emotional and psychological support too as they know that there are people in the community who do care and love them.
"We are thankful to STSPMF for tirelessly managing this job, that goes towards raising future generations."
Mr Naveed Irshad, president and chief executive officer of Manulife Singapore, also attended the luncheon.
The Straits Times © Singapore Press Holdings Limited. Reproduced with permission
Back