News
Fandi upbeat about Lions' build-up
06 August 2018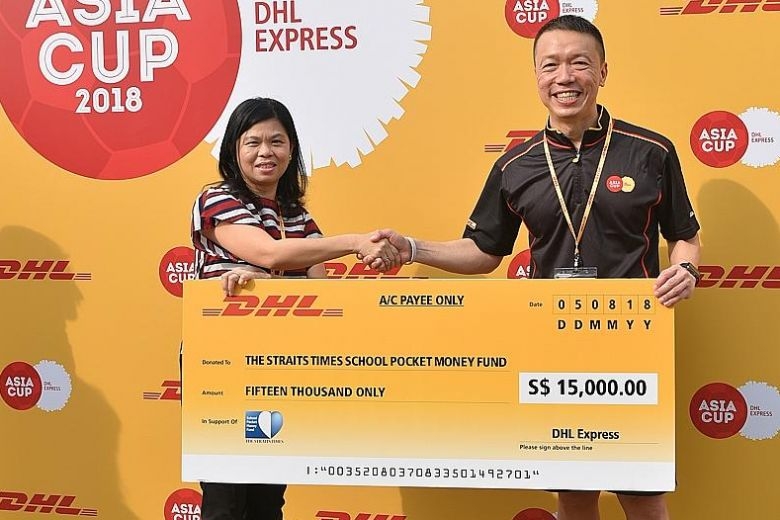 Sounding more like exotic holiday destinations than elite football nations, Mauritius, Fiji, Mongolia and Cambodia are not exactly the kind of teams that will get Singapore fans in a tizzy.
But they will be the Lions' next four opponents in friendly matches ahead of November's Asean Football Federation (AFF) Suzuki Cup.
And interim national coach Fandi Ahmad believes these sparring partners will provide a realistic simulation of what his team can expect during the tournament.
"Mauritius are an African team who play a very physical game. Similarly, Fiji are also very physical.
"Technically, we are stronger but I want to set up that mindset that we are ready for a physical battle," Fandi told The Straits Times yesterday on the sidelines of a coaching clinic at the Padang for 20 disadvantaged children, organised by DHL Express.
The event also saw the logistics company donate $15,000 to The Straits Times School Pocket Money Fund to provide relief to low-income families and the children met former Manchester United player Wes Brown.
DHL Express is the official logistics partner for the English giants.
The Lions have taken a battering in recent years. Under Fandi's predecessor, V. Sundram Moorthy, Singapore failed to win a competitive fixture in his two years in charge (2016-2018).
Fandi, who is the Football Association of Singapore's (FAS) head coach (youth), was handed the reins only in May and given the brief to guide the team at the AFF Cup, where they are drawn in Group B, alongside defending champions Thailand, Indonesia, the Philippines and a qualifying-round winner.
The Lions have won the AFF tournament four times. They are ranked 169th in the world while Mauritius are 155th, Fiji 165th, Mongolia 186th and Cambodia 166th. The games will be played on Sept 7 (v Mauritius), Sept 11 (Fiji), Oct 12 (Mongolia) and Oct 16 (Cambodia).
"At the moment, we are not at our best. Other Asean countries like Thailand, Vietnam, Indonesia and Myanmar are stronger," Fandi conceded.
"They are more composed on the ball. Physically and mentally, they are stronger and they are all speedy now. But we can try to match them physically and mentally."
His squad will begin to take shape today when 22 players, excluding the overseas-based Lions and the Home United players who are involved in the Asian Football Confederation Cup, assemble for a training session where the 56-year-old will assess them.
A second session has been scheduled for Aug 27 and a 10-day training camp in Osaka, Japan, is slated for October.
There will be recalls for Shahril Ishak (134 caps) and Baihakki Khaizan (130 caps), two veterans who did not get much game time under Sundram.
Uncapped players who are believed to have caught Fandi's attention include Balestier Khalsa midfielder Huzaifah Aziz, 24, and Warriors defender Ho Wai Loon, 24.
Fandi said: "This is a very open selection, there are about 35 players on my list. By October, that will be cut to 26 before we select the final 23 for the tournament.
"I will bring in some new faces and test two or three formations. Not only will the fans be excited to see fresh faces, but it also keeps the older players on their toes."
And the former national captain will make an important call in deciding where to best deploy Safuwan Baharudin. The Pahang FA player, who is strong in the air, has played in midfield and even as a forward while he arguably performs best as a centre-back.
"He knows very well where his best position is and where I want him to play. I am prepared to make a tough decision," said Fandi.
"Our players are quite experienced. We have the ability and many of our boys have been playing together for a long time. They are eager to perform after the last two early exits (in 2014 and 2016).
"I believe we can go far. Getting past the group is achievable. I know we will attack."
The Straits Times © Singapore Press Holdings Limited. Reproduced with permission.
Back