News
Guok Foundation donates $100,000 to ST School Pocket Money Fund
25 February 2023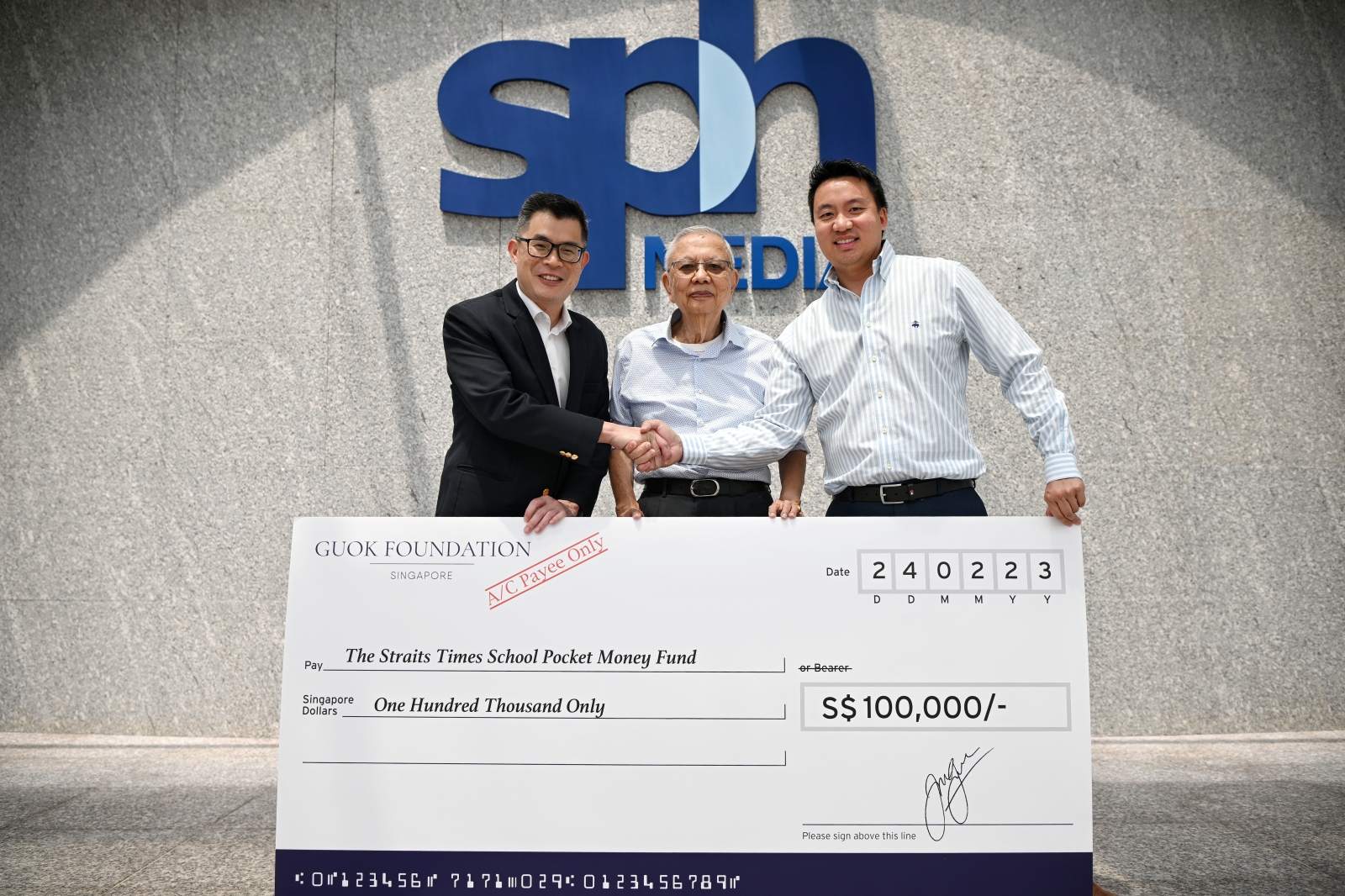 Guok Foundation chairman Joshua Guok (right), accompanied by his father, Mr James Guok, presenting a mock cheque to Mr Jaime Ho (left), the editor of The Straits Times and board chairman of The Straits Times School Pocket Money Fund. ST PHOTO: KUA CHEE SIONG
Christian charity Guok Foundation donated $100,000 to The Straits Times School Pocket Money Fund (STSPMF) on Friday, marking its first public donation since its establishment.
The foundation was set up in mid-2022 as part of the late Ms Gertrude Guok's last wishes to continue and honour the philanthropic and charitable works of her late parents.
Ms Guok, who died in 2018, was the eldest daughter of former schoolmaster Reverend (Canon) Guok Koh Muo, an Anglican pastor and philanthropist who dedicated his life to charity. Ms Guok was the first local woman to be gazetted as Protector of Women and Girls for Works, which involved the protection of Chinese women and young girls from forced prostitution. She was also involved in the Government's work on the prevention of cruelty to children,and the adoption of children.
Her nephew, Mr Joshua Guok, presented a mock cheque to Mr Jaime Ho, editor of The Straits Times and board chairman of STSPMF, at SPH Media Centre on Friday.
Mr Guok, who is the chairman of the foundation, said the fund was chosen because it has been around for many years and has helped many families through tough times.
Every year, STSPMF provides pocket money to about 10,000 children and young people from families whose per capita gross monthly household income is not more than $690.
Mr Guok said that in today's economic climate, families grappling with the effects of inflation need more support. "It's good that we are able to help all these children have an easier time at school. Out of all the kids helped by the fund every year, who knows how many are the future leaders of Singapore?"
Mr Ho said: "On behalf of our team and especially the 10,000 students we support every year, we're truly touched that the Guok Foundation has chosen The Straits Times School Pocket Money Fund as their first public donation since being established. "It is a timely reminder that every effort from our community helps, for those among us who need the fund's humble but everyday helping hand."
Initiated in 2000, the fund has disbursed more than $90 million.
The Straits Times © Singapore Press Holdings Limited. Reproduced with permission.
Back