News
Our sincere appreciation to Mr Dilip Babu for the generous donation to The Straits Times School Pocket Money Fund.
10 October 2023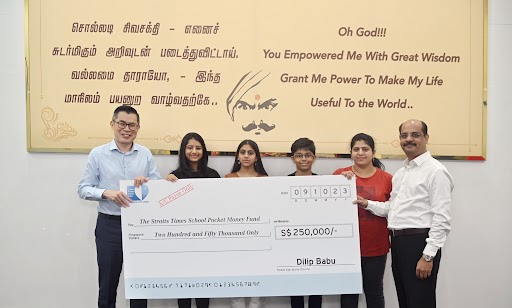 PHOTO: ST
Mr Dilip Babu (right), chief executive of Info-Tech Systems Integrators and JobsLah.com, presenting a $250,000 cheque for The Straits Times School Pocket Money Fund to fund chairman and Straits Times editor Jaime Ho at the Info-Tech headquarters in Bendemeer on Monday. With them are (from second left) Mr Babu's daughters Srinithi, 19, and Harini, 15, son Arjun, 14, and wife Ramya, 42. Mr Babu, 49, first contributed $100,000 in 2022 after learning from his son, a secondary school student, about how the fund helps needy schoolchildren with their school-related expenses. Mr Babu said he "believes no one should be deprived of good-quality education due to financial constraints". The fund chairman said it was "heartening to have advocates like Mr Babu, who aspire to be role models" and inspire the next generation to "look out for those in need".
The Straits Times © SPH Media. Reproduced with permission.
Back